Copyright © 2023 Inrock Drilling Systems, Inc. - All rights reserved
PDC Reamer – with unique fluid flows and field-replaceable cutter blades
The new PDC Reamer from Inrock has groundbreaking optimized fluid flows. Innovated for effortless cutting transportation and making your reaming operations faster and easier than ever. This PDC Reamer with the reusable and reversible body and field-replaceable cutter blades will be your favorite new co-worker.
Get a closer look at all the features and benefits of the new PDC Reamer below.
Made to make it easier for you
The new PDC Reamer with highly advanced technology utilizes the available hydraulic energy to remove cuttings and expose fresh rock to be sheared.
Field-replaceable cutter blades
The PDC Reamer has curved cutter blades for smoother, more stable drilling with minimal vibrations. The cutter blades are easily changed in the field, avoiding shipping back and forth to the workshop for blade replacement — a good investment for your productivity and the environment.
A reliable co-worker
Stable and efficient drilling means a more productive workday for you. With a premium product like the new PDC Reamer – designed and built in the USA – you can expect a higher Rate of Penetration and a smoother drilling process.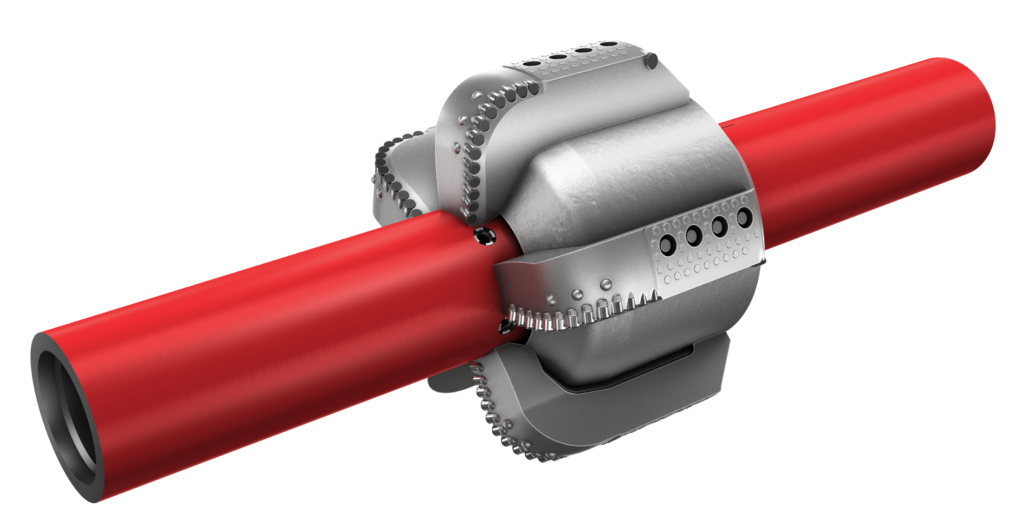 DURABLE CUTTING STRUCTURE
Curved blades featuring embedded domed inserts minimize harmful dynamic vibration, enabling stable and continual engagement with the rock. 
STRONG REAMER BODY
Inrock's PDC Reamer has a reusable and reversible body. The same body can be configured for reaming in either a push or pull direction, minimizing the need for multiple tools of the same size in your fleet.

FIELD-REPLACEABLE CUTTER BLADES
Quick and simple cutter blade change-out is achieved using hand tools on site, in the field. In a short time, the tool can be renewed with replacement blades to quickly get your operation drilling again.
OPTIMIZED FLUID FLOWS (CFD)
Using Computational Fluid Dynamics, the fluid flow has been modeled to ensure cuttings are quickly removed from the face and clear of the tool. Exposing fresh rock to the cutters enables efficient and effective drilling and minimizes time spent swabbing the hole.
FIXED PARTS FOR MORE STABILITY
With fewer moving parts, the risk of causing breakage or failure when drilling is reduced.